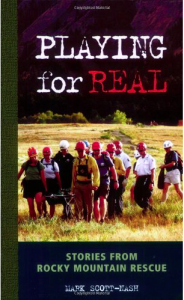 My Critically Acclaimed First Book
This year is the ten year anniversary of the publication of my first book about search and rescue in the mountains: "Playing for Real." It is a great book but unfortunately not marketed well. For example, the cover photo (not my choice) is about as boring as you can get for a mountain rescue group that performs high rock wall rescues on a regular basis. And the rescue group portrayed, Rocky Mountain Rescue, was still quite insular at the time, highly reluctant to embrace any public view of itself, whether positive or not. Lots of politics.
I wrote the book as many volunteer members experienced the rescue group: I ordered the sections into five seasons starting and ending with autumn. Members in the past joined in autumn and experience the different seasonal rescues in that order. Starting with the autumn rock climbing rescues, to the frigid winter rescues, next the springtime searches and then the summer busy season, circling back back around to the autumn.
It did impress those who read it. Hollywood producers contacted me in an attempt to get the rescue group to agree to a reality show (no go). Also, those impressed included Patricia Limerick, a MacArthur Fellowship  winner, as well as many other readers. So I guess it was pretty good.

Posted in Guide Book, Mountain Rescue, Mountaineering by Mark with comments disabled.