South Georgia Island, Antarctica
This is the last day of what turned out to be my most adventure filled year yet, and that's saying something. The abridged version:
Started out in early January by flying to Ushuaia at the southern tip of Argentina to begin a two-month Antarctic and New Zealand  journey. Crossed the Drake Passage, visited Antarctica island and continent, interacted with more penguins and seals than is imaginable. Visited Shackleton's Elephant Island camp and then crossed to the incomparable South Georgia island where we again interacted with penguins, seals, did some hiking and visited Shackleton's grave. Hopped over to the Falklands, a confounding set of British isles, and then to Santiago.
From there I experienced the most violently turbulent flight I'd ever taken to finally arrive in Auckland, New Zealand. Drove from the northern tip of the north island to the southern tip of the south island. Did many treks along the way including volcanos, the Tongariro traverse, and the Milford track. Watched the Broncos win the Super Bowl in a sports bar in Rotorua. I came away from my southern hemisphere adventure with a new appreciation of the enormous efforts being done to preserve what are many vanishing species in this part of the world.
Waterfalls on Milford Trek, New Zealand
When I returned, we decided to give up the corporate life and begin a sailing adventure life. Gave away most of our possessions, sold our vehicles, sold our house and journeyed across the great midwest to the east coast. Visited many parks along the way, toured many sites from West Point, NY to Gettysburg and Antietam.
In Annapolis we came to Good Karma, our sailboat. Bought in August, began our southbound journey from the northern Chesapeake at the end of October, avoiding hurricanes Matthew and Hermine.
Sailed all the way down to Norfolk, VA, and took the Intracoastal Waterway through Virginia to North Carolina. We then made big jumps offshore, passing South Carolina, Georgia and half of Florida to end up at Vero Beach.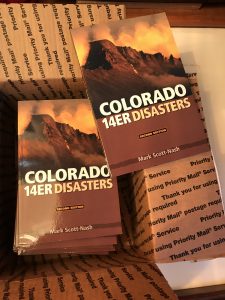 Other events: Released the second edition of Colorado 14er Disasters and was awarded my tenth patent for cyber security.
Pretty good year. Party supplies to celebrate pictured below! Tomorrow I start 2017 with a 5K race!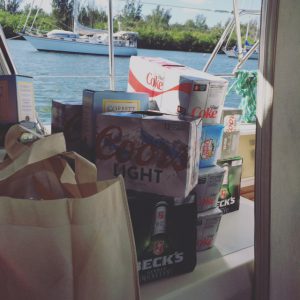 Posted in Colorado 14er Disasters, Journal, Sailing by Mark with

comments disabled

.