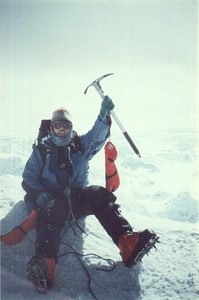 Summit of Denali, 1993
Sunday morning I ran into my friends Ron and Mary Beth at a restaurant. Ron and I discussed the fate of Mark Hesse who recently died in a climbing gym accident here in Boulder. Both Ron and I were remotely connected to Hesse in different ways. Boulder is actually quite a small town. My interaction with Mark was getting his organization to endorse my expedition to Manaslu that happened nearly two decades ago. Hesse had spent much of his 63 years as an adventurer with a focus on climbing, so many were surprised and shocked at what seemed to be a random and almost trivial accident. But should they have been?
I've noticed a trend in the last five or so years. A disturbing number of the best climbers and mountaineers that I had known over my climbing career have met with horrific accidents that have either killed or severely injured them. These accidents were from widely varying causes, from equipment failure to avalanches to simple falls down a cliff. What these incidents had in common were that they happened to experts in relatively low to moderately hazardous situations, at least for them. The list is a who's who of climbers and mountaineers: Todd Skinner, Charlie Fowler, Jack Roberts, and Glenn Porzak to name just a few. Was their lifestyle catching up with them? It made me think about all the times I escaped death in my adventures. Some of it was skill, some luck. I never thought I would die in the mountains, it was just a feeling I had while climbing. But maybe luck runs out.
This kind of incident makes me look back on my life in mountaineering. Here is a list of my big mountain adventures and some interesting notes:
1991: Aconcagua, Argentina, 22,825 ft. First high altitude climb. I was the only person on the upper mountain on December 25. This is the highest mountain outside the Himalayas, and because there was no one climbing high in Asia in the winter, I was the highest person on earth that day.
1993: Denali, Alaska, 20,320 ft. Summitted after only 8 days. Weather was excellent except for the difficult descent section. One of our team fell on a steep section at 17,000 feet and had to later be evacuated by helicopter.
1994: Makalu, Nepal, 27,720 ft. Fifth highest mountain in the world. First Himalayan expedition. Our expedition of 10 members was the only one on the mountain. Very difficult trek to base camp, followed by 8 weeks of living above 17,000 feet. Only two people summitted, including the late great Russian climber Anatoli Boukreev. My high point was 7400 meters. Much of the climbing on this mountain was solo climbing. I was 30 pounds lighter at the end.
1995: I tried to do two back-to-back expeditions over an 8 week timeframe. The first was Mount Logan in Canada where we attempted a difficult ridge route and bailed due to dangerous conditions (it was too warm). Two weeks after returning we flew to Bolivia and climbed Ancohuma, 21,080 ft., our team becoming one of only a handful of Americans to ever have climbed this peak. Main danger was hostile natives. I contracted salmonella poisoning that kept me down for two weeks post-expedition.
1996: Manaslu, Nepal, 26,775 ft. Seventh highest mountain in the world. I organized and led a small team in an attempt to be the first Americans to summit this mountain. Over a three month period we trekked well over 100 miles in monsoon rain through the jungles of Nepal. We reached a high point of around 8000 meters (26,240 ft.), which was the American high point at the time, but could not reach the summit due to both our small team size and a massive storm that dumped more than ten feet of snow, causing a fatality for one of the expeditions on the mountain. Shelly and I came within seconds of being crushed by an ice boulder avalanche. I cracked a rib and experienced a series of tropical illnesses. I performed emergency surgery on a porter who had severely injured his leg. Became separated from our porters in a snowstorm during the initial descent from base camp and survived overnight hypothermia. Witnessed the first signs of the Maoist insurgency in Nepal.
1997: Mount Rainier, Washington. Climbed the Furher Finger route and became lost on the descent in a whiteout snowstorm. I was able to find camp with only an altimeter and "mountain sense," whatever that means.
1998: I again attempted two back-to-back expeditions to high peaks. The first was back to Denali in Alaska where Shelly and I experience horrific snowstorms and cold weather to minus 40 degrees. Yes it was really that cold, I measured it. Made it to 17,500 feet but could not summit due to hurricane winds that did not abate for a month. Then I flew down to Bolivia and climbed Chearoco, 20,172 feet high. This is a very remote mountain and we claimed the second ascent of the southeast face, breaking trail in two foot deep snow for thousands of feet (read the 1999 American Alpine Journal, page 311).
1999: I led a large well-funded expedition in an attempt to make the first American ascent of Gangapurna in Nepal but gave up early due to the extremely dangerous conditions. Constant rock and icefall due to unseasonably warm temperatures made this a suicide route. One member received a head injury from rockfall.
2000: Mount Logan, Yukon Territory, 19,188 ft. Second attempt, this time on the normal route. Eventually made it to the gargantuan summit plateau at 17,500 feet, staging for an assault on the main summit. High wind and whiteout conditions prevented us from summitting, we had to turn back just below the east summit due to minus 60 degree wind chill and whiteout conditions. Received frostbite on one toe. Fell into a crevasse. Note that as with Denali, we had to fly to the base of the mountain in a small Cessna 185 that uses skids to land on the glacier. The guy who flew us to Logan out of Yakutat, Alaska, was killed two years later when his entire plane broke through into a big crevasse on during takeoff from the glacier while flying out two climbers and their equipment. The climbers survived and had to use their tools to ice climb out of the crevasse. He was the only pilot to fly to Logan and since then no one has replaced him in Yakutat.
2001: Solo expedition to Nepal where I completed a remote trek to climb Mera Peak, 21,221 ft.,  and Island Peak, 20,300 ft.
2003: Lead a large group to repeat the 2001 expedition and did a fast, solo climb of Mera Peak again Island Peak. Pursued by Maoists for a week through the high country and they never caught us.
2005: Lead an expedition to Peru to climb three high peaks: Pisco, Maparaju and Huapi. Ended up stranded overnight at the base of Pisco on the descent with no food or water.
2007: Again in Peru. Discovered that Huascaran, the crown jewel of the Andes at 22,250 ft., was in rare form and was accessible by the normal route, something that happens only once per decade or two. Summitted in difficult and dangerous avalanche conditions.
Those were just my out-there, remote and unquestionably risky adventures. On top of that I've done uncounted Colorado mountains, rock and ice climbing, and hiking in all kinds of weather, all year round.
Maybe I should semi-retire…

Posted in Mountaineering by Mark with comments disabled.