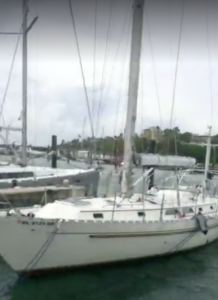 Good Karma Survived!
Hurricane Irma was the most powerful hurricane ever measured in the Atlantic. With sustained wind of 185 mph, it far surpassed the Category 5 rating of 157 mph. There were stories of gusts in excess of 230 mph in the eye wall, on the order of an F5 tornado. The eye was at least 50 miles wide as it approached Puerto Rico after destroying Barbuda, St. Martin and the Virgin Islands.
But it went north of PR and spared this impoverished island major destruction. Good Karma and almost every boat at the Yacht Club Marina at Palmas del Mar was spared, with great thanks to Shelly who took care of the multitude of last minute details in preparation (I am in Colorado). We suffered no damage at all. Shelly said one guy estimated there were 80 knot winds at the marina, which is 88 mph, cat 1 hurricane wind speed. This was 100 to 150 miles from the eye of Irma. This storm is truly a monster. We didn't simply dodge a bullet, we dodged a thermonuclear bomb.
It is now churning up the island chain toward Florida where it may mellow a bit but still remain highly destructive. Hurricane Jose is threatening next. A harsh welcome to hurricane season in the Caribbean.

Posted in Sailing by Mark with

comments disabled

.