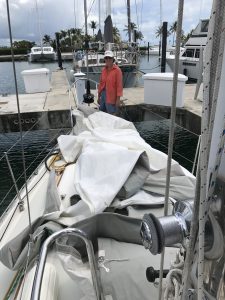 Jib Sail On Deck
We spent the last couple of days prepping Good Karma for a potential encounter with hurricane Irma. Right now the weather is great in nearly calm wind with little rain. It's very hot and muggy making the labor of getting the boat ready difficult. But it's about done now.
Irma is looking to pass north of Puerto Rico but as a major hurricane with winds over 110 mph. The Marina may get up to 45 mph winds, we've been in those but not as sustained and not with a bunch of other boats around us. Good news is the marina workers are great. We won't be on the boat if the winds get that high.
Irma is projected to pass over the Marina between Wednesday and Thursday. More to come:
Projected Path as of Noon Sunday

Posted in Sailing by Mark with 3 comments.