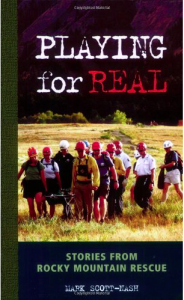 My Critically Acclaimed First Book
This year is the ten year anniversary of the publication of my first book about search and rescue in the mountains: "Playing for Real." It is a great book but unfortunately not marketed well. For example, the cover photo (not my choice) is about as boring as you can get for a mountain rescue group that performs high rock wall rescues on a regular basis. And the rescue group portrayed, Rocky Mountain Rescue, was still quite insular at the time, highly reluctant to embrace any public view of itself, whether positive or not. Lots of politics.
I wrote the book as many volunteer members experienced the rescue group: I ordered the sections into five seasons starting and ending with autumn. Members in the past joined in autumn and experience the different seasonal rescues in that order. Starting with the autumn rock climbing rescues, to the frigid winter rescues, next the springtime searches and then the summer busy season, circling back back around to the autumn.
It did impress those who read it. Hollywood producers contacted me in an attempt to get the rescue group to agree to a reality show (no go). Also, those impressed included Patricia Limerick, a MacArthur Fellowship  winner, as well as many other readers. So I guess it was pretty good.

Posted in Guide Book, Mountain Rescue, Mountaineering by Mark with comments disabled.
Goodbye Jim Detterline
I read in the last few days that Jim Detterline was recently found deceased. I haven't heard the details yet, but it is possible he was in a fatal solo climbing accident. He was apparently doing the something he loved and at which he was an unquestioned expert.
One thing not mentioned in news articles I've read so far, such as this one, is that not only was he a ranger in Rocky Mountain National Park who had climbed Longs Peak over 400 times, he participated in numerous rescues on this notoriously difficult and treacherous mountain, as well as other rescues in the park. He won the Department of Interior Medal of Valor for one of these rescues.
He was an invaluable resource to me in most of my writing about mountain rescue, contributing to Colorado 14er Disasters, Playing for Real, and an article I wrote for Alpinist magazine, number 5. He wasn't always happy with what I wrote, mainly because I was too direct for his tastes, but he consistently helped my research despite that disagreement.
He recently retired from the National Park Service and had an all too short retirement. Happy climbing in the afterlife, Jim.

Posted in Colorado 14er Disasters, Mountain Rescue, Mountaineering by Mark with

comments disabled

.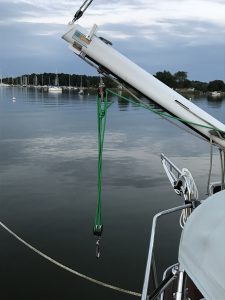 Hey Rocky Mountain Rescue, Do I Pass My RS Test?
A little inside joke there for the few RMR people who read this blog: What is shown is a new hauling system I rigged up today to lift our 90 pound dinghy outboard engine up to mount it on the stern rail. This system gives us a 4-to-1 mechanical advantage. An "RS test" is a grueling technical field test that Rocky Mountain Rescue uses to determine if someone is ready to move up to being in charge of the technical aspects of a mountain rescue mission. Building a hauling system, similar to what is shown above, is a standard part of the test. It is not so common to use these a haul system even in intermediate mountaineering, but in sailing they are one of the most basic systems, used in numerous applications.
On top of that we are beginning a major overhaul of our navigation electronics. We are installing a new chart plotter (kind of like Google Maps for the ocean), a new radar and an automated identification system (AIS). One thing an AIS does is to warn you if you are on a collision course with another vessel. This is important, especially in busy shipping lanes and in the ocean where a cargo ship could easily sneak up on you at night. It also tells other ships what your boat is doing and therefore warns them there may be a collision so that can either contact you or change course.
We struggled to gather all the components of this system (which all work together) and now are going to install them. It'll probably take a few days but when we are done, we'll have pretty much all the modern electronics we should need.

Posted in Mountain Rescue, Sailing by Mark with 2 comments.