Eldora is a small downhill ski "resort" in the mountains above Boulder, Colorado. Hardcore skiers like to dis Eldora, it is much smaller than the major resorts in Colorado and lacks the amenities of those big resorts. But it does have two things going for it: Convenience to Boulder, only about thirty minutes away with no I-70 traffic madness, and the fact that most skiers are not that "extreme" and have as much fun there as anywhere.
I drove up last Sunday afternoon to end my weekend on the slopes. This is a perfect time to ski as the crowds are thinning by this time and close-in parking is opening up. Yeah, I used to get up at zero-dark-thirty to join the frenetic crowd and still only got a half day of "real" skiing. The Sunday afternoon approach is much more relaxed and enjoyable, and no long lift lines. No lift lines at all actually.
It was comfortably warm Sunday, like spring skiing, and the infamous wind was not blowing. With no lift lines I found myself on the summit in no time. A fast descent on somewhat below average snow got me to the base of one of the backside lifts.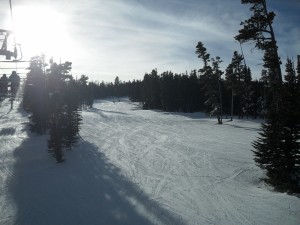 It was nearly abandoned with no customers waiting and one lift operator. On the ride up I saw only a few hints of skiers (photo above). Another fast ski down on my first day of downhill skiing this year got me to the base of the Corona lift. Despite warm temps and no snowfall for a week and a half, the snow was OK with a moderate number of icy patches. I rode up the Corona lift, this is the edge of the ski area.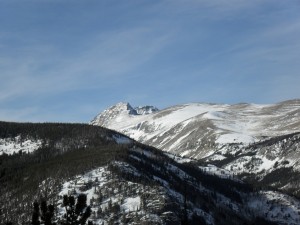 From the Corona lift you get a great view of the Arapaho peaks, a popular hike or winter climb I wrote about here. They can also be dangerous of course and are an infamous location for Rocky Mountain Rescue missions. They look very peaceful today, though.
Though I prefer backcountry skiing, one thing I always enjoyed about ski resorts besides the fun of many downhill runs in a row is the way you can be in the outdoors in relative comfort. Despite all the trappings of civilization that go with resort skiing, you are still outside in the mountain wilderness. You can smell the pine forest, feel the cold air on your skin, the sharp breaths, and take in the beautiful snow-covered surroundings. It's not a simple appreciation of nature, you become part if it. You understand what it means to be into it.
Being the first downhill ski day of the year and the lack of crowds to enforce breaks between runs, my quads were soon burning.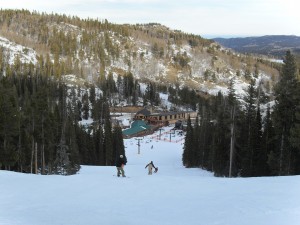 I took one run beyond my limit (feel the burn!) and spotted the lodge below. It was about 4:00 pm, man it starts getting dark early this time of year. And it got colder. Definitely time to call it quits. Of course, no ski day is complete without a visit to the local watering hole. The bar at Eldora is quite rustic but cozy. The greatest thing about it is you can order a simple hot dog and it's not even a kids menu item! Of course there are better restaurant choices in Nederland, but that's for another report.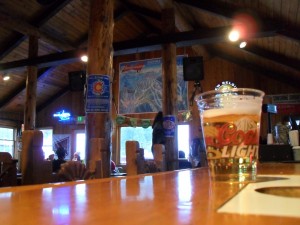 Cheers!

Posted in Trip Reports by Mark with

comments disabled

.