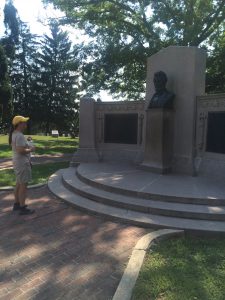 Shelly Reads the Gettysburg Address Memorial on Cemetery Hill
First stop on our tour was Gettysburg, Pennsylvania, less than two hours from Annapolis. Everyone reads about the famous Gettysburg Address given by Lincoln during the Civil War at the location of this battlefield, but visiting is an eye opener. The battle took place over a large area that is mostly a National Park today. You can drive or walk to the historic sites around the battlefield, which essentially surrounds the town, and learn many details of the battle.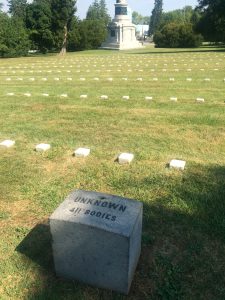 One Section of the Gettysburg National Cemetery with 411 Unknowns
The thing that impressed me most was the battle tactics that resulted in around fifty thousand deaths in three days. Soldiers on both sides would march side by side, with no shielding at all, directly into enemy fire. This tactic was completely ineffective but resulted in the deaths of hundreds and thousands at a time. I am astounded that these generals did not change their tactics to prevent such needless slaughter.
The horror of the aftermath is almost unbelievable. The battle took place July 1-3, 1863. Almost every home in town was taking care of injured soldiers. It took months before all the bodies were buried, mostly in mass graves (which were reinterred years later).
Lincoln was invited to come and speak at the location of perhaps the most important Union victory battlefield location and showed up in November 1863. He gave his address at Cemetery Hill (not where the Gettysburg Address memorial is) and it became one of the most famous speeches in history, though at the time it was not considered very profound.
This was quite the lesson for someone who grew up far away in Colorado.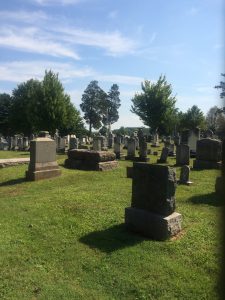 Lincoln Gave the Gettysburg Address Near The Flagpole (center of photo)

Posted in Journal by Mark with 2 comments.