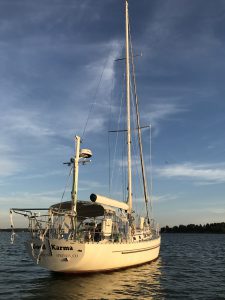 Good Karma at Anchor in Dun Cove
Friday we sailed from Annapolis to Dun Cove on the eastern shore of Maryland. It was pretty wild, with wind varying between 20 and 30 knots from the northwest. We were able to sail most of the way with only a reefed jib, moving at 6 to 7 knots! That is fast through pretty heavy seas, with waves at about 3 to 4 feet. I wasn't able to catch the worst of it on video, but you can see Shelly at the helm in a short video here! We were getting spray over the cockpit and it was quite brisk, but overall not too bad.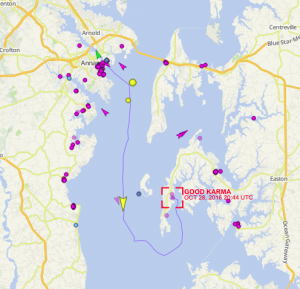 Route from Annapolis to Dun Cove
I found out there are several free web services that track AIS data of ships and guess what, we are there. Above shows a track of how we sailed from Annapolis to Dun Cove and where we currently are anchored. This is pretty cool. You can see where we are at any time by clicking here: Where We Are! I'll try to put this link in posts, at the bottom, under "this is where we are." but you can save it in your bookmarks and see where the Good Karma is in real time.
Dun Cove is one of the most peaceful anchorages we have been to yet. We took the dinghy in to a tavern to check things out in the community here. Shelly named the dinghy Namaste. She wanted to name it "Bad Karma" but I exercised my veto on that one…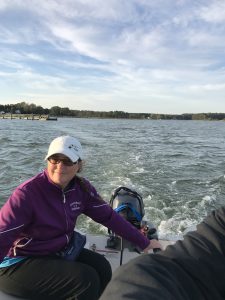 Shelly Piloting Namaste
The tavern was on a beach and it was actually quite hot, supposed to be record breaking heat again tomorrow, for October 30 that is, so it should be very nice. Next up: Solomon's Island!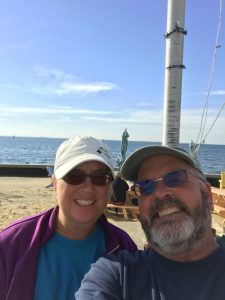 On The Beach at Lowe's Wharf Tavern

Posted in Sailing by Mark with 3 comments.