Look Close, You Can See the Leaning Sharps Island Light… Where Is The Island?
I write this on All Hallow's Eve… Also known as Halloween! We are anchored in Mill Creek near Solomon's Island. No trick-or-treaters SO FAR…. Not so scary here yet so I will recount some scary encounters we have had on our trip so far…
Maryland. One of the scariest states in the nation. Why? Think Blair Witch Project. It takes place near Blair, Maryland, a fictitious town on the site of the real town of Burkittsville, Maryland. Well, when we visited the Antietam National Battlefield last summer, a scary site in itself, it was CLOSE TO BURKITTSVILLE! We might have even driven through Burkittsville. I don't remember, I was too freaked out at the time to remember those little towns.
Then there was two days ago as we passed the Sharps Island lighthouse. At one time there was an island here, but not any more. And the lighthouse, pictured above, has a freaky history. From Wikipedia:
The first lighthouse was built on Sharps Island in 1838, but due to the island's erosion it was moved in 1848. This was replaced with a screwpile lighthouse in 1866 near the original location of the first structure.
The second lighthouse lasted until 1881 when it was forced off its foundations by an ice floe. It floated nearly five miles down the Chesapeake—with its keepers still inside—until it ran aground, allowing the men to escape unharmed.
The current light, a sparkplug lighthouse, was constructed in 1882… Leaning by about 15° since it was ice-damaged in 1977.
And now, no more island. Disappeared. Scary.
Anchorage on Mill Creek
Other Halloween-type things: On Mill Creek, where we are currently anchored, monstrously big, beautiful houses. Last night our anchor held in the evil wind. And today, we took the dinghy into town. Walked down the main street to a marine store where we bought some supplies, pictured below. These talisman's keep the evil spirits of worn parts at bay.
Oh, and for would-be trick-or-treaters at our boat: Shelly says the candy is stale (though I'm eating it)…;)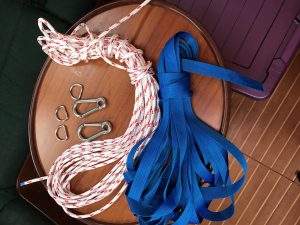 Talismans: D-rings, Eyed (of Newt) Carabiners, 5/16ths Line and 1-Inch Webbing

Posted in Sailing by Mark with

comments disabled

.