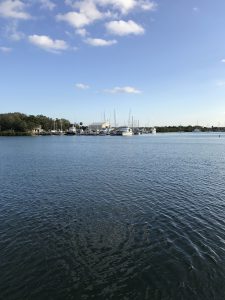 View From Our "Back Porch"
It's December 23rd, the temperature today was 78F, only a minor breeze, sunny and no rain. Vero Beach is nearly paradise. "Bad" weather here means it's more windy than expected. It can get a bit chilly at night, but Colorado natives will be in shorts and sandals being asked if they are cold. No, why, is it cold? I didn't notice.
We've been resting, working on the boat, running, walking, drinking, eating, and meeting many new cruisers. Nearly 100% of them are taking a break here prior to crossing over to the Bahamas, as are we.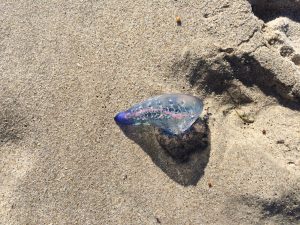 Man O' War Sans Tentacles
Today, Shelly was walking on the beach and came across a Portuguese Man O' War, a stinging jellyfish. Jellyfish are my aquatic enemies. Some people don't like snakes. Some don't like spiders. I don't like jellyfish. Well, if you read the link the Man O' War isn't a jellyfish, but a siphonophore. Fine. Don't bring me any jellyfish or siphonophores that look and act like jellyfish.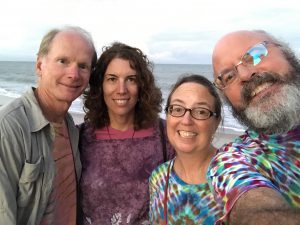 L to R: Jack, Marie, Shelly and I at the Beach
Been hanging out with Jack and Marie, our Boulder friends and now Vero Beach friends. They are here for the winter, as they were last year. The nickname for this town is "Velcro Beach" due to the fact that many visitors stick here eventually. I understand why. Nice weather, cultural and outdoor activities, and not the least, happy people. Everyone greets you on the street here (unless they are tourists, who are obvious). Shelly pointed out that lots of people are retired and of course they're happy. Well, I've seen many unhappy retired people but not here.
One of the big projects completed so far is the installation of a wifi booster. This allows us to log on to the local wifi access point from way out on our boat. Works fantastically, I am actually very impressed with the performance.
Why does it work so well? If you're on your mobile device or your PC, you may see a remote wifi point but not actually be able to talk to it because you device doesn't have enough oomph to talk back. Maybe you can get a connection but it's slow and intermittent. This is because you are too far from the wifi access point. Wifi is meant to be a very short range radio connection, not intended to travel over a quarter mile.
The booster not only brings the signal to you but also transmits at higher power so the access point can see you. Generally it is much better, potentially working over a mile away. I bought a system made for marine conditions and it indeed works very well.
More to come, though since we are here for the next few weeks the postings will be fewer during that time.
Happy Holidays!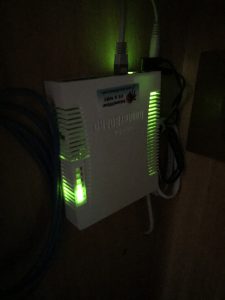 Router for Wifi Booster Installed!

Posted in Electronics and Radios, Sailing by Mark with

comments disabled

.