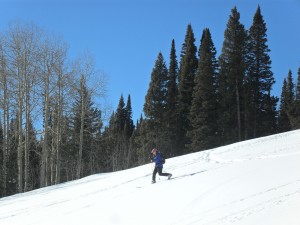 Shelly Tele
Last weekend we went up to Steamboat for a couple days of skiing. Believe it or not, we've never skied in the resort itself. Well, that's not exactly true, the final leg of a long and difficult backcountry ski trip called the Hogan Park tour we did a couple years ago ends at a remote back side ski lift. We hitched a ride up the lift and skied the resort slopes down to the base area. Not bad actually except we we too tired at that point to really enjoy the slopes.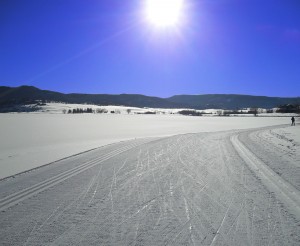 On Saturday we hit the Lake Catamount Touring Center. This is an area of groomed Nordic trails just south of Steamboat. There are several miles of skate skiing trails on Lake Catamount and the surrounding hills. By the time we got there the temps had climbed to about 20 degrees and without any wind this is very comfortable, especially for a workout. The sky was cloud free as you can see in the pic to the right. It shows a section of the groomed track. It's pretty flat here but that's the kind of thing you want for skate skiing. It gets much more difficult when you add in the hilly sections. This part of the track is on the lake itself, there are other parts that go up the hillsides around the lake. We were out for about 2 hours, enough to get a pretty good workout but not too exhausting for what we planned for the next day.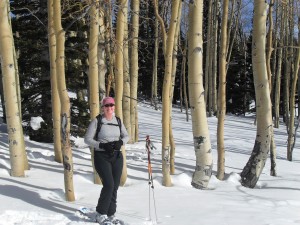 On Sunday we drove up to Rabbit Ears Pass, a few miles southeast of town, to do some backcountry ski touring. Though it's been a low snow year, this area is a snow magnet and had plenty of depth for some great skiing. There are several long loops you can tour through the trees and meadows on the pass. Rabbit Ears is a unique area, most of the routes are only useable in winter. In the summer this area consists of many large mosquito-infested bogs with no useable hiking trails. But in winter the bogs are frozen and covered with several, sometimes dozens of feet of snow. The US Forest Service maintains the winter routes that are marked with blue-diamonds attached to trees or on stand-alone bamboo poles. Following these diamonds, and the ski tracks in front of you, is easy on calm, blue-sky days as Sunday. But this area is notorious for heavy snow, whiteouts and wind that can quickly erase the tracks on the snow in front of you. It's easy to get off route in a whiteout if you aren't paying attention to the blue diamonds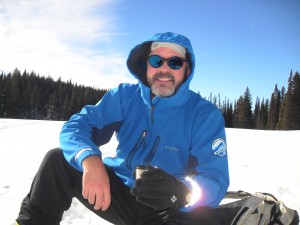 . That wasn't a problem last weekend though as you can see from the pics of Shelly in front of aspen above and myself on the right resting with a hot drink. I was testing out a new jacket. It worked very well. There was a bit of breeze coming from my right but I was very comfortable without a heavier jacket.
The route we took had the impressively imaginative name West Summit Loop A. I'll go into further detail in a later post using a Guide category in the blog. I'm planning on adding a bunch of Steamboat area ski guides on this blog as I haven't found a good summary anywhere. It might turn into a new guide book, who knows?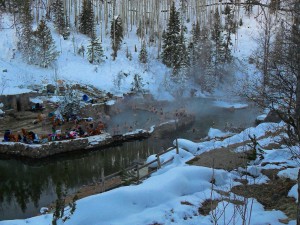 We spent about three hours on the pass. We got some turns in on a couple of slopes. That's Shelly at the top of this post on the last long slope. The snow there was somewhat crusty and difficult to turn, but overall this was the only complaint. Rabbit Ears is in far better condition now than anything on the Front Range.
No trip to Steamboat is complete without a visit to Strawberry Hot Springs (left). Hanging out in the steaming water while surrounded by snow in minus 5 degree air is something everyone should experience. This is a natural hot spring just north of Steamboat that bubbles out at 150 degrees. The resort built up some channels to capture this water and mix it with frigid water coming down Mad Creek in several big pools that keeps the temperature at a comfortable temperature just over 100 degrees. It costs $10 per person but well worth the price to soak away your muscle soreness.
And of course at the end of it all you need refreshments! We went to a relatively new restaurant and bar called The Laundry, a great little bar on the edge of town. A good place to meet all kinds of people from artists to society dropouts (seated on either side of us that night).


Posted in Trip Reports by Mark with

comments disabled

.