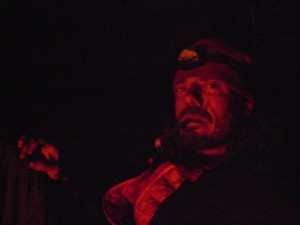 This isn't a camping trip, it's a shootout with the Devil. I didn't come here to build campfires and look at the stars, I came out here to track something down, to kill them, one by one, forty days, forty demons.
-Winston Branko Churchill
This is the true story of a man who abandoned a successful business and wrote a 500-page manifesto, became absorbed in Eastern mysticism, exotic hallucinogenic drugs, day-long meditation sessions, and 10 hour mountain bike marathons. He was temporarily committed to a mental hospital before setting off on a 400 mile solo wilderness trek where he experienced increasingly strange visions that lead to his intentional starvation in a tent, alone at 11,000 feet in the San Juan mountains. It was near where members of the Alfred Packer party committed murder and cannibalism in the late 1800s, and close to the location of the Summitville Mine disaster, an irresponsible, man-made environmental catastrophe. This disaster is an important connection. Winston revered the wilderness and this was a great sin against the holy land.
I found out these facts after being drawn to what was already, in late summer of 2008, an intriguing story. Winston had disappeared somewhere in western Colorado and his family and friends were desperate to find him. When people disappear in that manner they're usually gone for good. It appeared hopeless.
I learned in retrospect that, at the time, Winston was still alive and would remain that way for many more weeks before dying of starvation. His death wasn't the result of being trapped or disabled in the wilderness, he intentionally starved himself to death. Why would one do that?
As I delved deeper into Winston and the final year of his life, it was revealed to me what his friends and family already knew: He was one of the most interesting, strange, intelligent, wild and intense people I had ever known and his story needed to be told. The strange events that drove him and the reason for his intentional death is told in Forty Demons.

Posted in 40 Demons Archive by Mark with comments disabled.