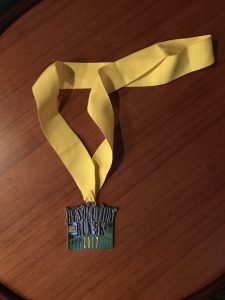 Silver Medalist
Great start to the new year: Due to my blazing speed, I came in second in the Vero Beach Resolution Run, silver medal! My friend Jack came in second for his age group as well. Got presented with my medal in front of the crowd in the ceremony.
To be honest, it's not made of silver. And I came in second for my age group, of which there were a multitude, and not many participants. And my pace could more appropriately be described as lazy speed, about 10 minutes slower than my best 5K time when I was a young-un, and about 7 minutes slower than the first place finisher in my category. The first place guy literally beat me by a mile. So did Jack, who is two age categories up from me.
But hey, who am I to refuse a medal?

Posted in Journal by Mark with

comments disabled

.