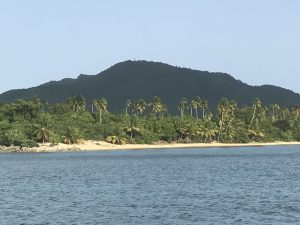 Anchored at Vieques
We spent the last three nights anchored off Green Beach on Vieques. Very calm and isolated. Yesterday we had a rainstorm move through in the morning and it cooled things down to a very comfortable temperature.
We took the dinghy into the beach and snorkeled a bit. Saw a sea turtle hanging out in the underwater rocks. At night we saw some bioluminescent critters, some way below the surface of the water.
it was great to get out on the ocean again but we had a few minor electrical problems and another issue that made us try out our other anchor. I traced the electrical problems down to a corroding junction terminal. Can't fix it here so we'll head back to the marina. The second anchor worked great. We were a little cautious with it because it is on a rode (rope) rather than a chain, but we had no problems.
should be a great sail back to Palmas, going west!

Posted in Sailing by Mark with

comments disabled

.