Fireworks on Howelsen Hill, Steamboat Springs
We went up to Steamboat again last weekend and were surprised to find the town celebrating the 100th anniversary of their Winter Carnival. The town was packed with people for events that included the firework show seen above. It looked like fun but every time we go up there we spend as much time as we can in the mountains so we didn't see much of the Carnival. As a matter of fact, when the fireworks started on Saturday we took advantage of the emptying restaurants to get seats without a wait. As soon as the fireworks were over the place was packed.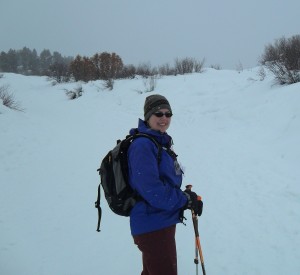 Anyway, we found a lot of new snow and excellent backcountry conditions. All the northern mountains appeared to get a good amount this weekend but Steamboat got a dump of 10 inches on Saturday and even more on Sunday. We went up Emerald Peak, located just west of downtown, on Saturday. It was gray and breezy most of the day but this was good because with that gloomy sounding weather comes the snow. The trail up Emerald is groomed for about 2 miles. The snow is solid enough to walk on, and people do hike up this trail without snowshoes or skis, which I don't quite understand, but there it is. It's also a popular place to bring dogs.
As you climb up the hill you see this huge open field to your right. Apparently this area was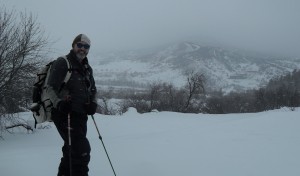 cleared for farming many decades ago but is now just a large open slope. Steamboat bought the property a couple years ago with help from the Colorado Lottery funds and is now turning it into a recreation area, Nordic skiing in winter and mountain biking in summer. We skied this field a couple of times but today we were sticking to the main track up the hill.
The groomed track ends at an overlook at the two mile mark. On a clear day you get a view of the beautiful Yampa valley, but not on Saturday. We were in the clouds and so continued on the non-groomed trail another half mile to the summit. Right on top there are several radio towers visible from all over the valley. It was too windy for a break there so we hung out in the trees and enjoyed our hot drinks before our long descent.
The conditions were excellent for the downhill, Shelly remarked that it was the easiest ski down she's ever done on that track. Usually you have to work your legs hard all the way down to keep under control but this time it was very easy.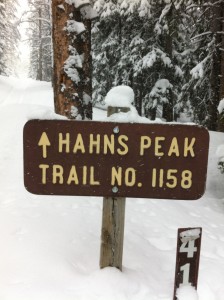 On Sunday we drove up to Columbine, a little village of cabins north of Steamboat. Lots of snow there, like ten feet. They seem to be in a little geographic area that just tends to catch the snow. In the past a big group of us would rent out several of these cabins over the long Thanksgiving weekend hoping to ski some early season snow. We reasoned that if there was skiable snow in November, it would be either here or at Wolf Creek pass. It's a cool little place where you can ski right out your door into the vast wilderness beyond.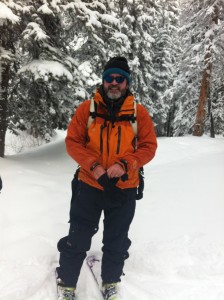 The cabins allow parking for cross country skiers, a good thing because their was so much snow the sides of the road were plowed up walls 5 feet high and there was no way to park there. Hahn's Peak is an 11,500 foot mountain just east of the cabins and that was our destination. The first part of the route was packed down by snowmobile tracks which eventually ended. We then broke trail for a while. It was snowing on us all the way and very cold, around 20 degrees. The route goes all the way to the summit of Hahn's Peak giving you a fantastic view (on a clear day). I describe this ski plus another one near the Columbine cabins in my Insolent Guide. The area is a reasonable drive from the front range cities and has the best snow in the state.
The snow was kind of funky on Sunday making the ascent a bit more difficult. Added to the cold and trail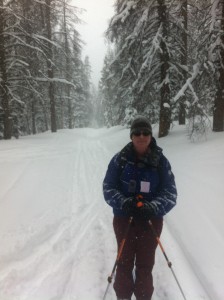 breaking, we decided to turn around after about two hours. And because it was so cold, we got going downhill right away without a rest. It was a good glide down, we got a few turns in fresh powder slopes through a grove of aspen. Back to the car and the drive back to Steamboat.
On this trip we didn't get to Strawberry hot springs but did of course get in the hot tub at our place. It's great to soak in the hot water and drink a Coors Lite while it snows on you. To be clear, I had a Coors Lite, Shelly had some wine. I would never accuse someone other than myself of drinking such a beer even if I had photographic evidence to the contrary.
We watched the sun go down but not before I caught the scene of the sun through icicles from our room balcony. The end of another great weekend in Steamboat!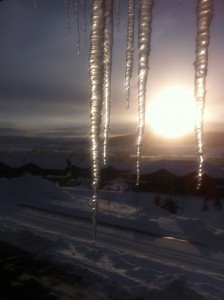 Posted in Trip Reports by Mark with comments disabled.