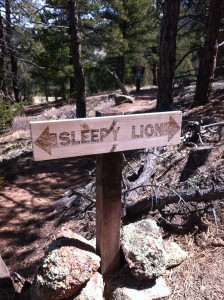 Sleepy Lion Trail Sign

Ok, last weekend was kind of lazy but I did a couple of short hikes near home. Saturday was beautiful and it seemed all of Boulder was outside in the foothills. I decided to hike up to the Third Flatiron. One great thing about living in Boulder, and one of the reasons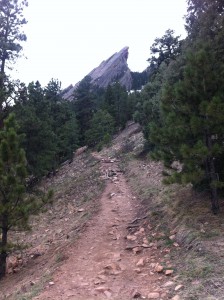 we moved here, is that we can get into the mountains from our front door. No driving necessary. Not only that, no parking necessary. On nice days and just about all summer long, you can't park within a half mile of Chautauqua Park if you don't get there at dawn. The area receives some millions of visits per year, more than Rocky Mountain National Park. Our house is about a 10 minute walk from the park, which is cool. We're also about a 10 minute walk the opposite way from the west end of Pearl Street and about 10 minutes from The Hill and CU. We've saved millions of dollars in parking fees over the years, minus $25. The "minus $25" was for a CU parking ticket I got a couple of weeks ago. Go figure.
Anyway, on Saturday I hiked up to "The Third," meaning the Third Flatiron. Actually, you can only get as far as the wildlife closure. They keep people, mainly climbers, away from the Third Feburary-July so that nesting raptors won't be disturbed.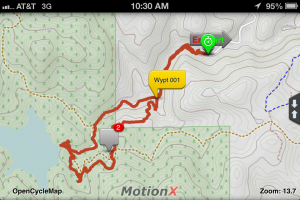 Sunday was different. The weather had turned ugly. What I mean by that is probably not what you think. It was clear and bright, no snow or rain. But the temperature was just above freezing and the wind had picked up. That combination of cold and wind makes hiking quite uncomfortable. Why? Because it's really not cold enough to wear heavy clothing like you might do in the depths of winter, you get too hot from the work you're doing. On the other hand, the wind really cuts any exposed skin so you need to cover everything to keep from freezing yet ventilate to keep from overheating. You end up in a constant battle of clothing adjustment. On top of that, when the wind gets that high it is just plain annoying!
But I needed a workout so I went up to the Sleepy Lion trail just west of Lyons, CO, our old home town. It's a fun, scenic loop that takes you into the forest for a view of Button Rock dam, right. GPS track is above left. You start out by walking down an access road for about a mile and then get into the forest trail. The trail takes you up and soon you get a view of the dam and reservoir below. On a perfectly clear day you can see Longs Peak in the distance, but not on Sunday. No, the wind was blowing over the divide, producing orographic snow and clouds to obscure the view.
The trail continues to the base of the dam and back out on the road you can see in the photo. I was surprised how popular this area had become and how many people were out on the trail even on this cold and windy day.
Another Tuesday, another foot of new snow at our house (see pic at the end)… Well, it measures slightly less than a foot but this is after consolidation overnight. Last week's foot of new snow was very dry and powdery and completely melted away by the weekend. Yesterday's snow was good and wet. If it doesn't warm up really fast, and it's looking like it might not, this snow could last a while. It seems to me the largest cause of our current drought is that it has been so warm in the spring. Last year it felt like we shifted from winter directly to mid-summer in March. The big spring runoffs happened more than a month early and the summer continued to be way too hot. This year is shaping up to be like a "normal" spring so far. We'll see.

Posted in Journal by Mark with

comments disabled

.