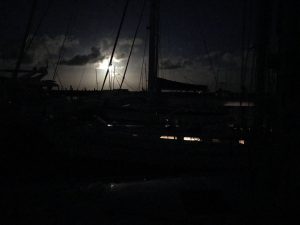 Full Moon Rises Over Good Karma
We spent the last couple of days prepping Good Karma for tropical cyclone. There is no imminent threat, but we are getting ready to leave for the mainland tomorrow for a while and these weather systems can develop quite fast. A hurricane could form and move through here in the time we are away, so we want to be prepared.
We took down the jib and stored it below. We've arranged for a double set of dock lines to be installed and also have the dock master look after our boat. We took the canvass off. Fenders on both sides. The chances of even a low level tropical storm hitting here are not that great, but you never know.
And as a matter of fact the remains of tropical depression #4 are currently passing just north of us, which ironically are causing extremely calm and clear weather. I took the pic below this morning, one of the few times I've seen the inland mountains without cloud cover.
Onward!